VISTABOOKS
The Buffalo--1898
to Western Americana page
to Nature page
to National Parks Page
to Frederic Remington page
to Yellowstone/Tetons page
o Colorado page
to VistaBooks Home/Contents
The Buffalo--1898

by Colonel Henry Inman with "Buffalo Bill" Cody.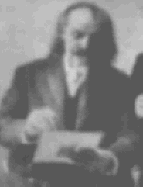 America nearly lost its buffalo (or bison, to be more accurate), but in an early conservation effort a small herd was retained. This has now grown into a sizable population, which recall to us the vast herds that once roamed and even blackened the plains. This story, however, is told by one who at one point in his career was actively engaged in slaughtering the animals. They were a nuisance that got in the way of the new trains, and, besides, eliminating buffaloes might help in subduing Indians. Life habits of the animal are given as well, and what better way to learn of the place in our history of the buffalo than by reading an account by one of the principals in their history. Reprinted from 1898.
Illustrations are by Frederic Remington and others. 48 pages.
ISBN-10: 0-89646-028-2. ISBN-13: 978-0-89646-028-7. Order #: VIST0028 paper$4.95.
Sample illustrations from The Buffalo:
to Western Americana page
to Nature page
to National Parks Page
to Frederic Remington page
to Yellowstone/Tetons page
o Colorado page
to VistaBooks Home/Contents
---
This "VistaBooks: The Buffalo--1898" page was last modified 0 October 9, 2021. Did you come here from a link on another website? For latest version of this page, click or copy to your browser: https://www.vistabooks.com/Titles/vistpubs0028.html. Copyright © 2021 VistaBooks LLC.