VISTABOOKS
Buffalo Bill's True Tales
to Western Americana page
to Colorado page
to VistaBooks Home/Contents
Buffalo Bill's True Tales


by William F. "Buffalo Bill" Cody.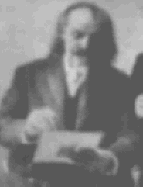 Buffalo Bill remains famous because he typifies the romantic figure of the American West. His Wild West shows, a mixture of rodeo and circus along with real-life history, spread his fame, dramatizing this frontiersman as a super rider and top marksman. To us moderns, reading how Cody could be both an Indian killer and a friend of the Indian people might be hard to grasp, but it is important to grasp to better understand the nature of the frontier. Indian Sitting Bull, for instance, and Buffalo Bill had stood against each other in matters of war, but toured in the Wild West show together! Also here are his tales as a Pony Express rider, buffalo hunter, and riding his horse for their lives. This is Bill's story, in his words; and yet, as an American, it is your story, too.
Period illustrations, with a color cover. 24 pages.
ISBN-10: 0-89646-022-3. ISBN-13: 978-0-89646-098-0. Order #: VIST0098 paper$3.95
Sample illustrations from Buffalo Bill's True Tales:
to Western Americana page
to Colorado page
to VistaBooks Home/Contents
This "VistaBooks: Buffalo Bill's True Tales" page was last modified October 10, 2021. Did you come here from a link on another website? For latest version of this page, click or copy to your browser: https://www.vistabooks.com/Titles/vistpubs0098.html. Copyright © 2021 VistaBooks LLC.