At a New Mining Camp: Creede of Colorado, 1892.
by Richard Harding Davis.
Today Creede is a "ghost" town in southwestern Colorado (the italics because today's residents don't like being called ghosts), a remnant of its former size and glory. But author Davis reports it when activity there seemed circus-like. At the 1892 time Creede was growing rapidly to a population of 8,000. The town was rip-roaring, and this account helps us understand the bustle as well as the unbounded hope and optimism at the site of a new mining boom. Reprinted from 19th century originals. Period illustrations (page 17 is by Thomas Moran), 32 little pages. See sample pages, illustrations.
ISBN-10: 0-89646-"018-5. ISBN-13: 978-0-89646-018-8. Order #: VIST0018 paper$3.95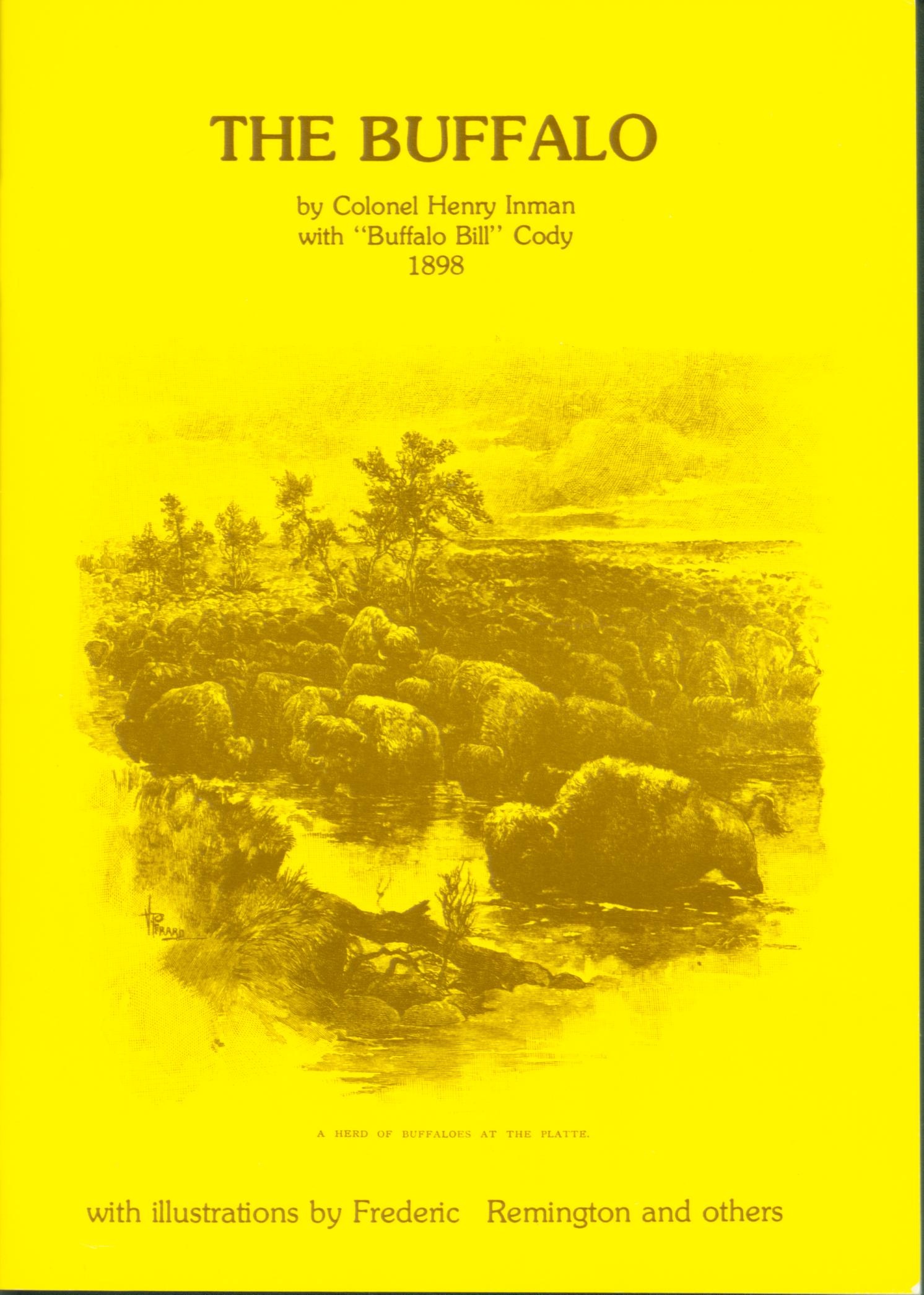 The Buffalo--1898.
by Colonel Henry Inman with "Buffalo Bill" Cody.
America nearly lost its buffalo (or bison, to be more accurate), but in an early conservation effort a small herd was retained. This has now grown into a sizable population, which recall to us the vast herds that once roamed and even blackened the plains. This story, however, is told by one who at one point in his career was actively engaged in slaughtering the animals. They were a nuisance that got in the way of the new trains, and, besides, eliminating buffaloes might help in subduing Indians. Life habits of the animal are given as well, and what better way to learn of the place in our history of the buffalo than by reading an account by one of the principals in their history. Reprinted from 1898.Illustrations are by Frederic Remington and others. 48 pages. See sample pages, illustrations.
ISBN-10: 0-89646-028-2. ISBN-13: 978-0-89646-028-7. Order #: VIST0028 paper$4.95.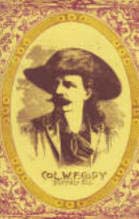 Buffalo Bill poster.
Portrait of Colonel W.F. Cody from a pre-1900 poster printed in purple, yellow, and sepia on heavy stock, 11 " x 15".
Inventory = 8. ISBN-10: 0-89646-093-2. ISBN-13: 978-0-89646-093-5. Order #: VIST0093" poster$3.00.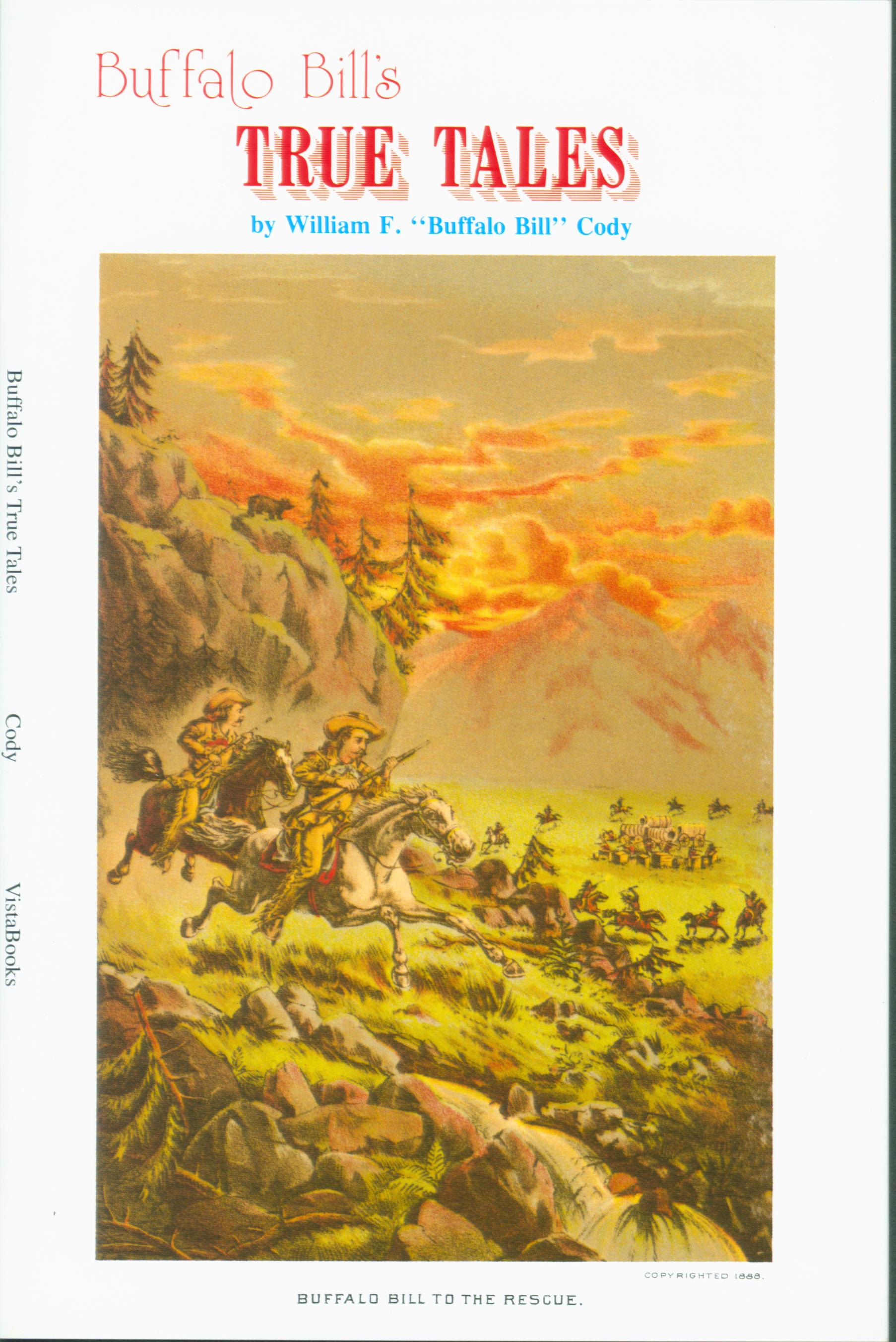 Buffalo Bill's True Tales.
by William F. "Buffalo Bill" Cody.
Buffalo Bill remains famous because he typifies the romantic figure of the American West. His Wild West shows, a mixture of rodeo and circus along with real-life history, spread his fame, dramatizing this frontiersman as a super rider and top marksman. To us moderns, reading how Cody could be both an Indian killer and a friend of the Indian people might be hard to grasp, but it is important to grasp to better understand the nature of the frontier. Indian Sitting Bull, for instance, and Buffalo Bill had stood against each other in matters of war, but toured in the Wild West show together! Also here are his tales as a Pony Express rider, buffalo hunter, and riding his horse for their lives. This is Bill's story, in his words; and yet, as an American, it is your story, too. Period illustrations, with a color cover. 24 pages. See sample pages, illustrations.
ISBN-10: 0-89646-022-3. ISBN-13: 978-0-89646-098-0. Order #: VIST0098 paper$3.95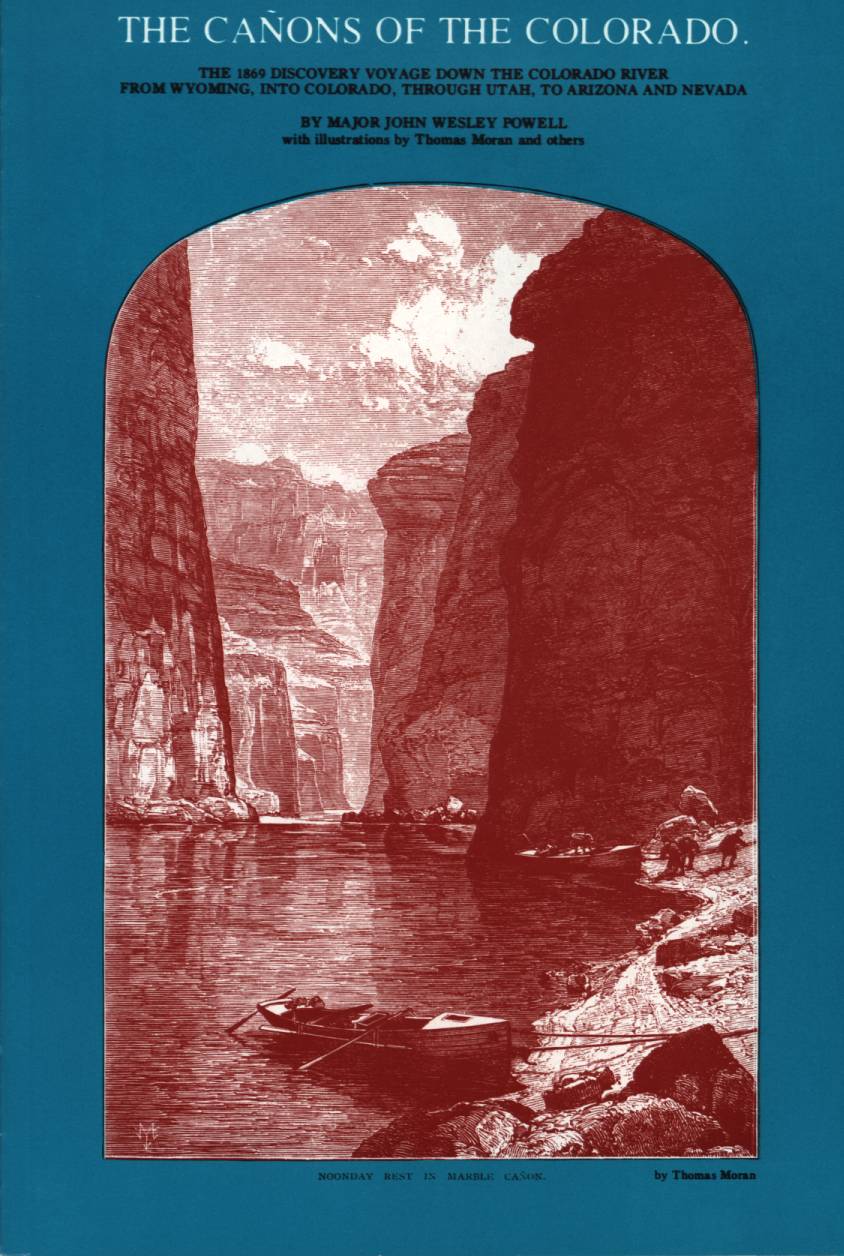 The Cañons of the Colorado-the 1869 discovery voyage down the Colorado River.
by Major John Wesley Powell.
Note the word cañons in the title would today be spelled canyons. From Wyoming, into Colorado, through Utah, to Arizona and the Grand Canyon, and to Nevada--this was the journey of the "Colorado River Exploring Expedition", what Powell called his group of 9 men and 4 boats as they began charting what was the last major unexplored part of the then United States. The trip was not only scientific in its goals, but it naturally became a grand adventure, with two of their party opting to leave the expedition before attempting a furious cascade, only to be killed by Indians. Much of the land and scenery which they drifted or dashed past is today included in national park areas. Illustrations are by Thomas Moran and others. 64 pages. See sample pages, illustrations.
ISBN-10: 0-89646-059-2. ISBN-13: 978-0-89646-059-1. Order #: VIST0059 paper$4.95
Scuffed copies of The Cañons of the Colorado are available at discount at Scuffed Specials.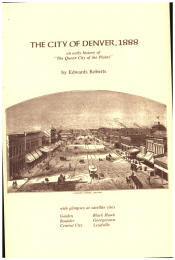 The City of Denver, 1888: an early history of "The Queen City of the Plains".
by Edwards Roberts.
Here is Denver at a time when the Centennial State of Colorado was only 12 years old. It is a story of mines, railroads, cattle and sheep, of cowboys, prospectors, bankers, merchants, and politicians--the resources from the region and the personalities that brought them together at this city on the plains at the base of the Rockies. The city itself had had fewer than 50 residents during the winter of 1858-59, but already by 1888 public and private buildings, urban and suburban districts, parks and schools had been built and arranged around a transportation system of rail, trolley, horse, and foot. It was a system that had "fit", unlike today's transportation system. It must have been an exciting period! There are also glimpses of satellite cities--Golden, Boulder, Central City, Black Hawk, Georgetown, and Leadville. Reprinted from Harper's Magazine. Illustrated with period engravings, 24 pages. See sample pages, illustrations.
ISBN-10: 0-89646-006-1. ISBN-13: 978-0-89646-006-5. Order #: VIST0006 paper$3.95.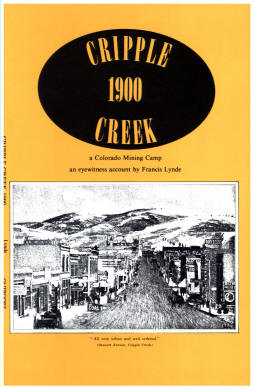 Cripple Creek 1900: a Colorado mining camp.
An eyewitness account by Francis Lynde.
Cripple Creek got a later start than most of the West's famous mining camps. In fact, many of its predecessors had already played out by 1891 when the Golconda was uncovered here. Tells how Cripple Creek got its name, gives history of nearby Pikes Peak, explains the mines and their mechanization. Because the industrial revolution was at peak in America in 1900, the technology of railway, electricity, and steam drilling could be applied at Cripple Creek. Reading this account helps us understand how Colorado and other Western states which had mineral resources were able to get a good and early start on their development, albeit at the expense of the Cripple Creeks, which were destined to bust just as they had been destined to boom. Period illustrations, 20 pages. See sample pages, illustrations. ISBN-10: 0-89646-080-0. ISBN-13: 978-0-89646-080-5. Order #: VIST0080 paper$3.95.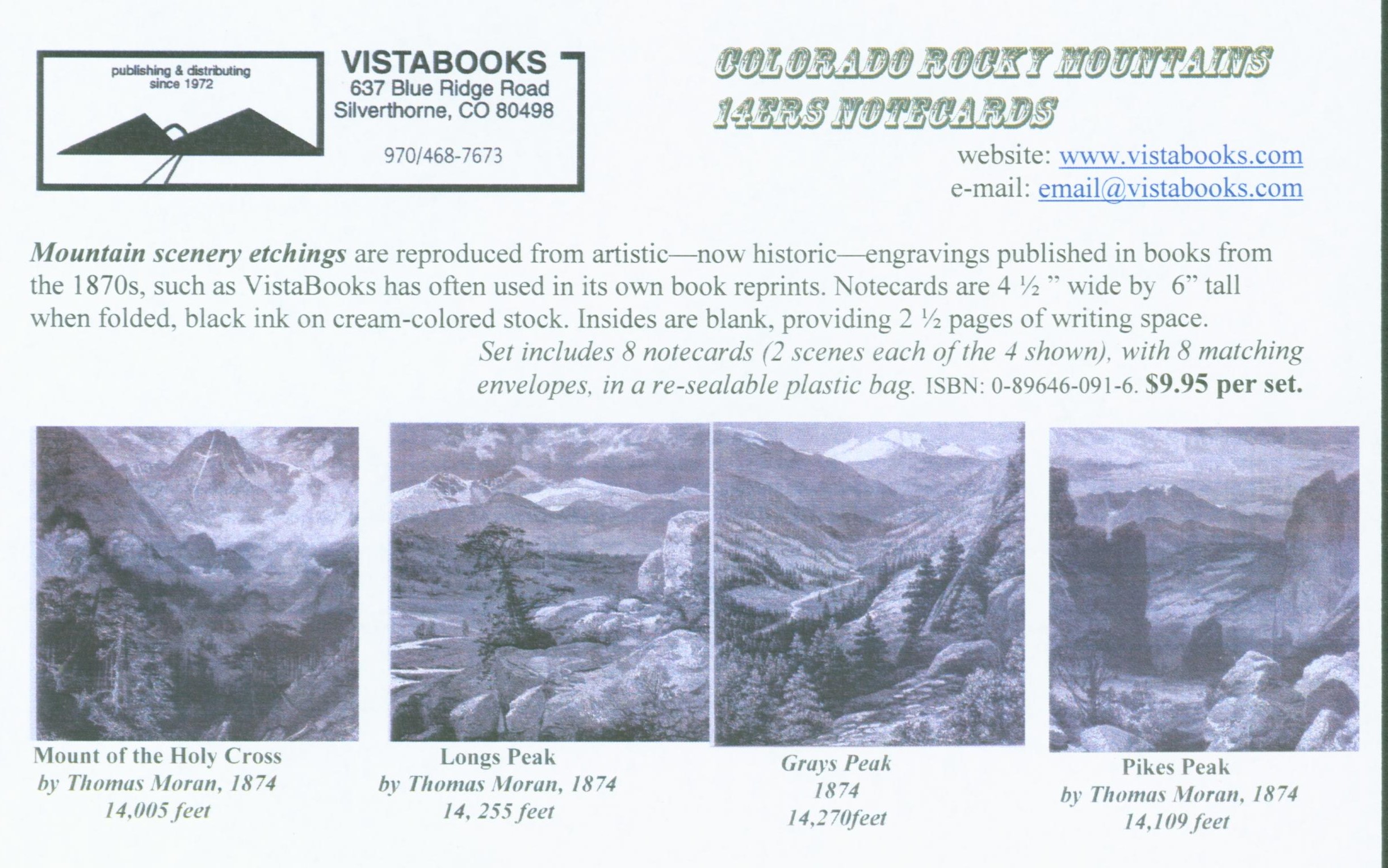 Colorado Rocky Mountains 14ers Notecards.
by Thomas Moran, 19th century landscape painter.
Includes scenes of Mountain of the Holy Cross, Pike's Peak, and Long's Peak--all 1874 by Moran, plus Gray's Peak, 1874. 2 scenes each on antique white paper with 8 matching envelopes. See sample pages, illustrations.
ISBN: 0-89646-091-6. Order #: VIST0297 notecard$9.95. Coming soon; inquire.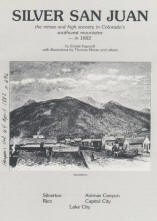 Silver San Juan: the mines and high scenery in Colorado's southwest mountains--in 1882.
by Ernest Ingersoll.
Presents early sketches of this region where the Colorado Rocky Mountains culminate in their grandest scenic display, including Silverton, Rico, Animas Canyon, Capitol City, Lake City. Although mines and mining are the prime topic in this early history, and the writing gives a good picture of mining in the mountain West, the author admired the landscapes greatly, too. It was a time for that in America, when national pride in Western grandeur was swelling. Silver San Juan was a great place for such pride, for the region has been called "The Switzerland of America". Most of the region's minerals have now been removed, but the economic input from that source is replaced by tourists who come enthusiastically in numbers. For those who want to know the background of the region they visit, this book is for them. Illustrations by Thomas Moran and others. 24 pages. Reprinted from 1882. See sample pages, illustrations.
ISBN-10: 0-89646-025-8. ISBN-13: 978-0-89646-025-6. Order #: VIST0025 paper$3.95.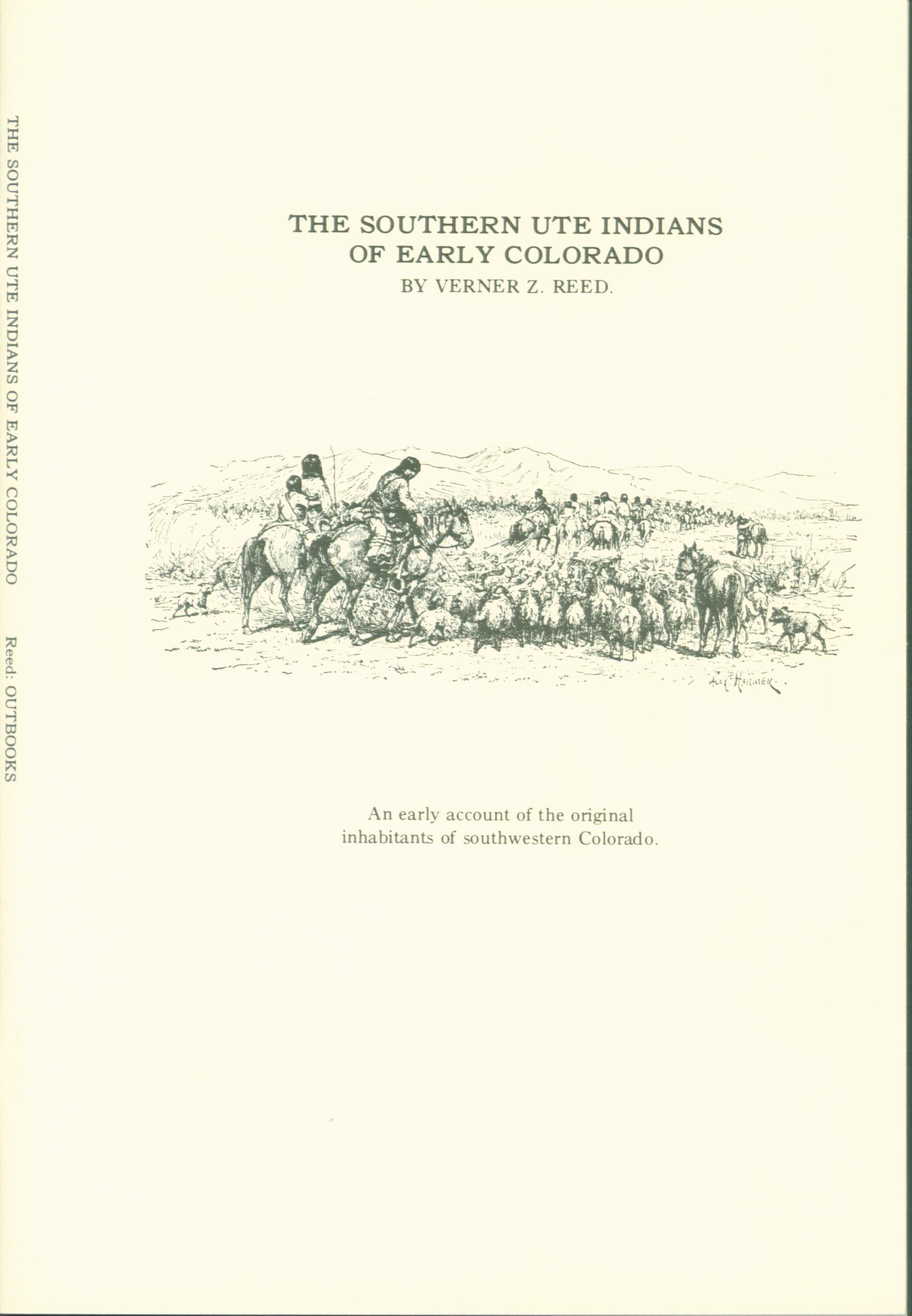 The Southern Ute Indians of Early Colorado.
by Verner Z. Reed.
An early account of these inhabitants of southwestern Colorado, living in one of the most magnificent spots of the American continent. Aboriginal customs were still much practiced at the time this material was first published, in 1893. We are told of face painting, of nomadic lifeways, of matriarchal lineage of families, of medicine men, of wars with other Indian tribes, of courtship and family customs, of religion, and of the variance between Indian custom and white man's law. Reprinted from The Californian Illustrated Magazine. Illustrations of shepherding, horses, war costumes, camp, family, chief, dance, and more. 20 pages. See sample pages, illustrations.
ISBN-10: 0-89646-067-3. ISBN-13: 978-0-89646-067-6. Order #: VIST0067 paper$3.95.
END OF VISTABOOKS "Out-of-print Titles" PAGE--click for TOP

to VistaBooks Home/Contents or use links in sidebars

---
This "VistaBooks: Colorado" page was last modified August 14, 2023. Did you come here from a link on another website? For latest version of this page, click or copy to your browser: https://www.vistabooks.com/themes/vistpubscolo.html. Copyright © 2023 VistaBooks LLC.
Need help? email. We want you to find what you want to find.
Thanks for looking!